Carlson Survey
Van ontwerp tot realisatie
Gebruik Carlson Survey samen met Carlson's populaireveldboek software SurvCE/PC en ontdek hoe efficiënt de werkzaamheden in het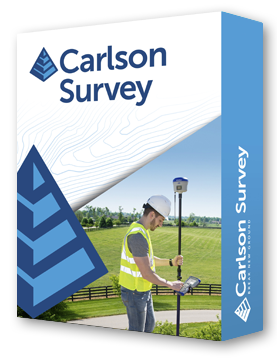 veld, en de verwerking binnenkunnen samengaan.
Door gebruik te maken van juiste coderingen zullen tijdens de verwerking de lijnen, symbolen en punten automatisch gegenereerd worden in Carlson Survey. Sterker nog, SurvCE/PC toont U buiten in het veld al hoe de meting er na de verwerking uit zal zien.Daarnaast is Carlson Survey niet alleen geschikt voor topo metingen, maar ook voor grondverzet toepassingen inclusief, lengte– en dwarsprofielen.
Carlson Civil
Carlson Civil is het meest robuuste en gebruikersvriendelijke civiel ontwerp-pakket dat vandaag de dag beschikbaar is, met dynamic
updating zonder gebruik te maken van custom objects. Wat met andere civiele software dagen in beslag kan nemen, duurt slechts enkele uren of zelfs minuten met de krachtige, intuïtieve Carlson Civil software.
Carlson SurvPC
Robuuste en flexibele veldboeksoftware voor GNSS & Total Stations
Steeds meer landmeters kiezen voor de veldboeksoftware van Carlson. Met SurvPC (voor Windows) heeft u gebruiksgemak, en praktische
functies met een uitstekende service en technische ondersteuning.
Net als Carlson SurvCE, ondersteunt SurvPC een groot aantal GNSS ontvangers en conventionele of robotic total stations. SurvPC maakt daarbij gebruik van tablet PCs met Windows 7, 8 of 10. Voor een overzicht van de ondersteunende hardware kijkt u hier.