Carlson Survey
Van ontwerp tot realisatie
Gebruik Carlson Survey samen met Carlson's populaireveldboek software SurvCE/PC en ontdek hoe efficiënt de werkzaamheden in het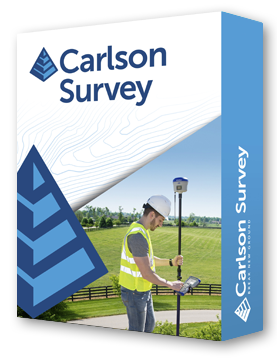 veld, en de verwerking binnenkunnen samengaan.
Door gebruik te maken van juiste coderingen zullen tijdens de verwerking de lijnen, symbolen en punten automatisch gegenereerd worden in Carlson Survey. Sterker nog, SurvCE/PC toont U buiten in het veld al hoe de meting er na de verwerking uit zal zien.Daarnaast is Carlson Survey niet alleen geschikt voor topo metingen, maar ook voor grondverzet toepassingen inclusief, lengte– en dwarsprofielen.
Verwerk sneller en makkelijker:
Een volledige tool kit – van kleinste kwadraten vereffening(link met MOVE3) tot 3D-modellen

Naadloze uitwisseling tussen binnen en buiten

Inrichten van multi-coderingen voor uw hele bedrijf

Genereren van dwars - en lengteprofielen

Oppervlakte bepaling

Volume & Contouren

2D & 3D transformatie
Carlson biedt u de keuze
- AutoCAD® of IntelliCAD®: Carlson Civil draait op AutoCAD® of Map® vanaf versie 2000 tot heden en komt standaard met ingebouwd IntelliCAD®. Carlson Civil maakt in het dynamische modelgebruik van standaard CAD entiteiten.
- Dynamisch Ontwerpen:Intelligente dynamische ontwerpomgeving. Eenwijziging in één aspect in het ontwerp resulteert in het automatisch bijwerken van alle gerelateerde elementen in de tekening.
- Betaalbaar: Bij Carlson hanteren we vrijwillig onderhoudwat inhoudt dat u zelf bepaalt of u wilt opwaarderen naar de nieuwe functionaliteit. Een jaartje overslaan is dus geen enkel probleem. Bespaar tijd en kosten!