Carlson Civil
Carlson Civil is het meest robuuste en gebruikersvriendelijke civiel ontwerp-pakket dat vandaag de dag beschikbaar is, met dynamic
updating zonder gebruik te maken van custom objects. Wat met andere civiele software dagen in beslag kan nemen, duurt slechts enkele uren of zelfs minuten met de krachtige, intuïtieve Carlson Civil software.
Road NETwork. Maak een wegontwerp, met kruispunten in 2D en 3D en reken dezedirect door.

Site NETwork. Maak een nauwkeurige inschatting van het grondverzet en koppeldit aan materiaal hoeveelheden.

Lot NETwork. Maak snel een onderverdeling van een bouwterrein in percelen, rekeninghoudend met eisen aan de vorm, oppervlak, en ontsluiting aan de openbare weg.

Genereren van dwarsprofielen.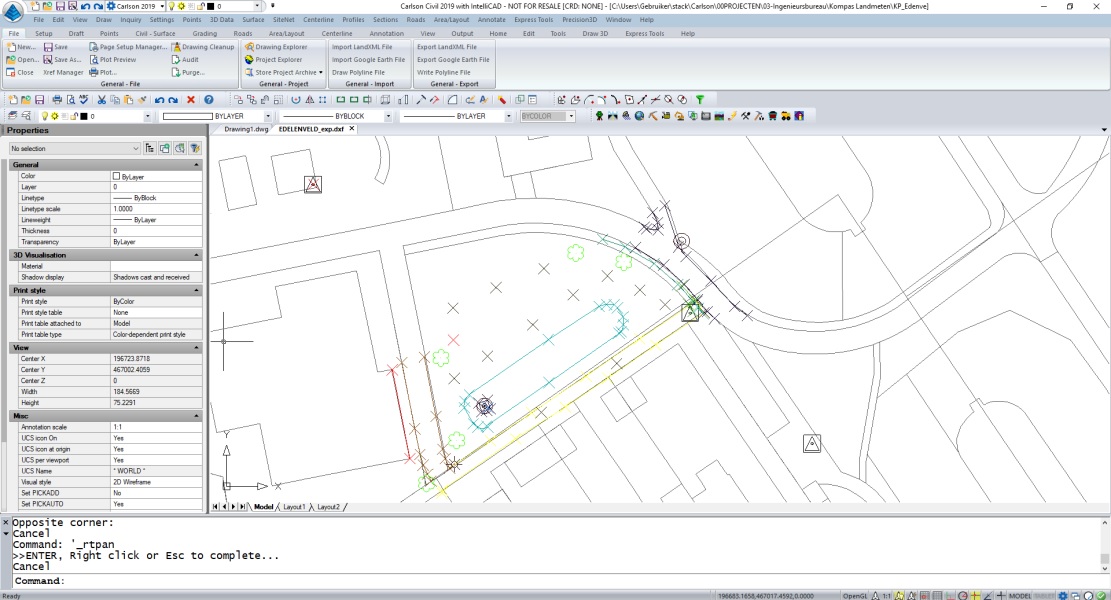 Carlson werkt met een volledig dynamische design omgeving; wijzigingen in één object van het ontwerp worden verwerkt in alle andere objecten. Bovendien bevat Carlson Civil wegontwerp inclusief kruisingen, 2D- naar 3D-elevaties, uitgebreide volume berekeningen,dynamische (dwars)profielen, en nog veel meer.
Carlson biedt u de keuze
- AutoCAD® of IntelliCAD®: Carlson Civil draait op AutoCAD® of Map® vanaf versie 2000 tot heden en komt standaard met ingebouwd IntelliCAD®. Carlson Civil maakt in het dynamische modelgebruik van standaard CAD entiteiten.
- Dynamisch Ontwerpen:Intelligente dynamische ontwerpomgeving. Eenwijziging in één aspect in het ontwerp resulteert in het automatisch bijwerken van alle gerelateerde elementen in de tekening.
- 2D, 3D of Vogelvlucht: Vele mogelijkheden voor visualisering van uw ontwerp. Ontdek vroegtijdig ontwerpfouten.
- Betaalbaar: Bij Carlson hanteren we vrijwillig onderhoudwat inhoudt dat u zelf bepaalt of u wilt opwaarderen naar de nieuwe functionaliteit. Een jaartje overslaan is dus geen enkel probleem. Bespaar tijd en kosten!